Tay's Southern BBQ Sauces
"O taste and see that the LORD is good; blessed is the man that trusteth in him." Psalm 34:8
The Best Sauces and Rub in Town!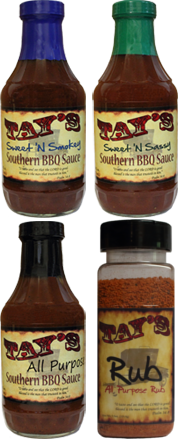 Feel free to contact us if our sauces may be of interest to you or if you have any questions.
Tay's Sauce, LLC
PO Box 476
Cameron, NC 28326
Phone: 910-695-5177

This site is a member of
The Smoke Ring
Prev BBQ Site
-
Next BBQ Site
Next 5 BBQ Sites
-
Random BBQ Site
Join the BBQ ring
Browse
list of member sites.
All you need to know about Barbecue
A service of
netRelief Consulting
Tay's All Purpose Southern BBQ Sauce is a mix of the West and East sides of North Carolina, making a perfect blend that we like to call a Central sauce.
For a sweeter flavor, try the Sweet 'N Smokey sauce. It has all the taste of the original sauce with a brown sugar sweetness and a light, hickory smoke taste.
For those who like a little heat, try the Sweet 'N Sassy sauce. It has all the great taste of Sweet 'N Smokey with a habanero kick.
We've done it again! We would like to introduce Tay's Grub Rub. It is a perfect blend of spices and a all-purpose dry rub and is low in sodium and is MSG and glutine free. It is excellent on beef, chicken, pork, veggies, and seafood. A taste we wanted to share from our family to yours.
Tay's Southern BBQ Sauces are both gluten and high fructose corn syrup free.
It has taken owner Doug Hankins from Cameron, NC years to perfect these down home southern BBQ sauces and rub that are ridiculously delicious and can be used on anything and everything.
Upcoming Events
Tay's would like to come to your next event, please contact us!
Testimonials